February 14, 2017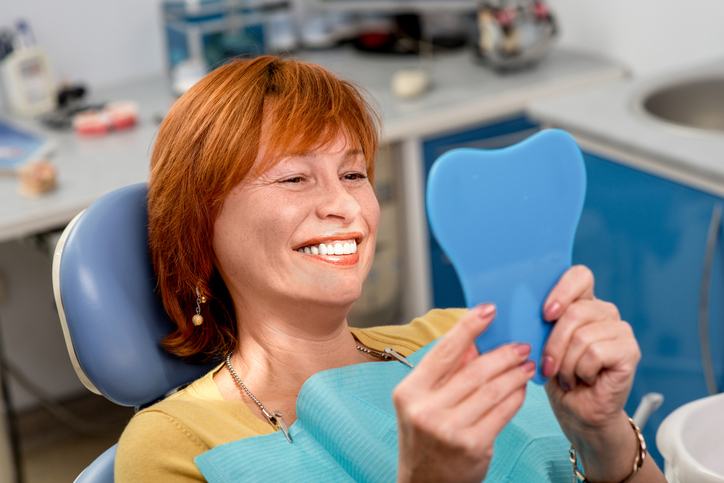 Your daughter just called to tell you that she and her husband are expecting your first grandchild. You beam with pride, but when you smile, you immediately become self-conscious because of a couple missing teeth on the side of your mouth. You want to keep your good looks as a grandpa, so you're considering dental implants in Midwest City, but you're not sure how they work, what the procedure is like, and how they can benefit you. Luckily for you, the team at Midwest Dental Center has all the answers you need.
What Are Dental Implants?
Dental implants are now the standard for replacement teeth. Dr. Steven Kendrick will talk with you about the results you want, how many implants you need, and he'll develop an individualized treatment plan especially for you.
Implants consist of three parts that form your replacement tooth:
Implant – A biocompatible titanium post will be surgically placed in your jaw and this will become the secure foundation you need. You'll need time to heal and allow the post to fuse with the bone before the next two pieces can be attached.
Abutment – This is the connecting piece between the implant and the tooth-shaped "cap." The abutment will then be affixed to the implant.
Crown – The part of the replacement that looks like the tooth itself is the dental crown. The long-lasting, naturally-looking porcelain crown will be secured to the abutment, restoring your smile to its former glory.
What Should I Consider When Getting Dental Implants?
If you're thinking about getting implants to replace missing teeth, there are a few key considerations from Dr. Kendrick to weigh.
Good Candidate – Although dental implants are the optimal treatment, you need to make sure you're a good candidate for this procedure. If your jaw is compromised, you may need bone grafting before you can have the implant placed. The good thing is, once you have the replacement, it can actually make your jaw even stronger.
Time – Since getting a dental implant takes more than one visit, and your jaw requires time to heal and fuse with the artificial tooth root, bear in mind that you won't have a replacement tooth in one day. Generally, the process is complete for patients in a few months.
Cost – Although dental implants are a little more expensive up front, when compared to bridges and dentures, they last a lot longer than these other options. Over the course of a lifetime, you'll actually end up saving money with an implant. And, there is affordable dental insurance for implants, and we work with CareCredit financing to handle and gaps in coverage.
How Will Dental Implants Improve My Life?
These radiant replacement teeth can make your life better in many ways:
Improved Speaking & Chewing – You won't have to worry about dental implants shifting when you speak, chew, or even kiss.
Increase Jaw Bone Density – The titanium posts cause jaw tissue to grow and strengthen the area.
Appearance – With natural-looking implants, the only person who'll know you have a false tooth is you.
Proper Tooth Alignment – These will prevent your other teeth from shifting to fill in the gaps of your missing teeth.
Stay-Put-Smile – Keep your smile in your mouth where it belongs, not in a cup next to your bed. You can clean your new teeth just like your original ones, and you'll never have to worry about messy pastes or dental adhesives.
Now that you know how great of a solution dental implants are, schedule your appointment with Midwest Dental Center today and make your smile healthy again!
No Comments »
No comments yet.
RSS feed for comments on this post.
Leave a comment