April 22, 2020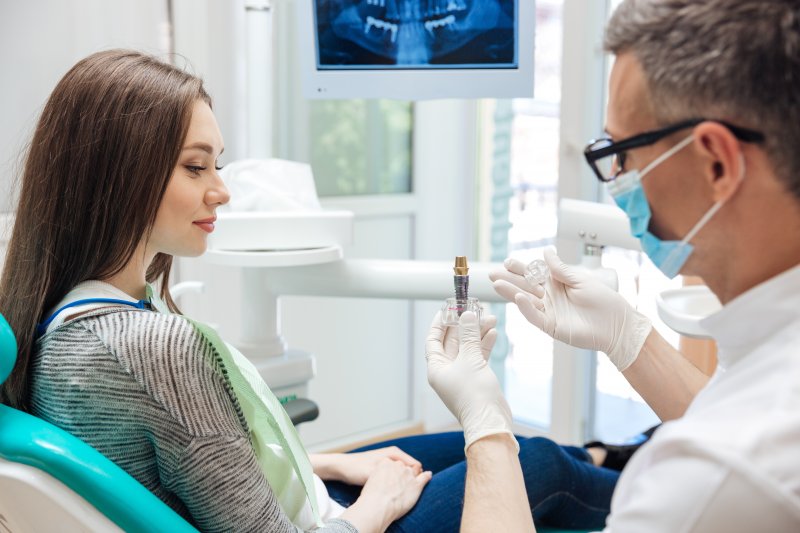 Have you given any thought to what you'd do if you ever lost a tooth or even multiple teeth? Leaving the gap empty should be ruled out immediately; doing so will only invite dental drift and other oral health problems. Instead, most dentists will probably recommend that you get dental implants – special restorations that can directly join with the jaw and set the foundation for a gorgeous, powerful new smile. But are they right for you? Read on to learn everything you'll need to know before you decide if you're a candidate for implant surgery.
What are Dental Implants, and How are They Used?
If you saw an implant by itself, you might be confused about how a thin metal post is supposed to replace your tooth. The answer is that it actually doesn't; it simply acts as an artificial "root" for the prosthetic that you'll use for speaking and chewing. When surgically inserted into the jaw, implants can fuse with the nearby bone tissue through a natural process called osseointegration, anchoring them in place so they can provide the firmest support possible. You can replace any number of teeth depending on how many implants are used. One implant can support a single crown, two implants might hold a bridge to replace three or more teeth in a row, and a full denture may rest on four or more carefully positioned posts.
How Will You Know if You're a Candidate for Implants?
You can viably consider using dental implants to repair your smile if:
You have lost any number of teeth or require tooth extraction in the near future.
There is no sign of gum disease in your mouth.
You currently have enough bone in your jaw to support the implants.
You do not smoke or suffer from specific health issues such as uncontrolled diabetes.
Even if you don't currently meet the above requirements, you might still be able to receive dental implants after the proper steps have been taken. For example, gum disease can be treated, and bone loss can be reversed with a bone graft. Your dentist will tell you what your options are after a thorough evaluation of your oral cavity.
Why Should You Consider Implants?
With dental implants, you can restore your ability to eat most foods and speak clearly with dazzling prosthetic teeth that look and feel like natural ones. If you need dentures, the stability of implants is particularly useful; you'll never again have to worry about using a messy adhesive to stop your teeth from slipping. And of course, durable implant posts that can last for decades are far more convenient and cost-effective than other forms of tooth replacement that typically have lifespans of 5 to 15 years.
At the end of the day, dental implants are an excellent choice for most people who are facing life with an incomplete grin, but you should always speak to your dentist before committing to the treatment.
About the Author
Dr. Steven Kendrick earned his Doctor of Dental Surgery at the Oklahoma University College of Dentistry. He also trained at the Misch International Implant Institute, becoming skilled in the placement and restoration of dental implants. Furthermore, he studied IV sedation so that he could help his anxious Midwest City patients relax during treatment. If you are thinking about getting dental implants, schedule a consultation at his practice, Midwest Dental Center, by visiting his website or calling (405) 732-0431.
Comments Off

on Dental Implants: Are They Right for Your Smile?
No Comments
No comments yet.
RSS feed for comments on this post.
Sorry, the comment form is closed at this time.