May 9, 2021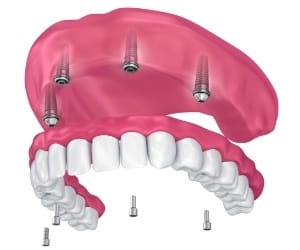 Although teeth are designed to last forever, over 35 million adults don't have any remaining in one or both arches. Dentures are a convenient and trusted solution to replace missing teeth, but they have their limitations. You don't need to settle for anything less than the best. You can enjoy a nearly perfect replica of your real teeth with an implant denture; however, it's normal to have a few concerns before you're ready to commit to the procedure. There isn't any reason to worry. Here are the basics of dental implants to feel confident in the decision you're making for your smile.
How are dental implants different?
Whether a bridge, partial, or denture, traditional treatments for tooth loss only replace what is seen above the gum line. A dental implant goes a step further to create the entire tooth. It is the only solution to treat both the root and crown.
A dental implant consists of three components: a titanium post, an abutment, and a restoration. The post is surgically placed into the jawbone to serve as a root. An abutment is attached to the post to connect the restoration. If you're missing several teeth, you won't need to replace each tooth individually. Instead, a specific number of posts can be used to support bridges and dentures.
What are the benefits of an implant denture?
With implant posts supporting your denture, you'll enjoy unmatched benefits that aren't possible using a traditional prosthesis, including:
Over a 95% success rate to last for decades.
Looks and feels natural.
Regain as much as 70% of your biting force.
Eliminates slipping and irritation.
Preserves your jawbone's density.
Improves your oral health.
Easy maintenance and care.
Affordable, long-term solution.
What is the process like?
Most patients who have good oral and general health can benefit from dental implants, but you'll still need a consultation with your dentist to ensure they are right for you. During your examination, your dentist might find you need additional procedures before your implant surgery, like tooth extractions, bone grafting, or periodontal therapy.
After you've recovered from any previous treatments, sedation or anesthesia is used to ensure you're comfortable as the implant posts are surgically placed into your jawbone. You'll spend the next several weeks healing, allowing your bone to fuse to the posts through a process called osseointegration. Once you have healed, abutments are placed on your posts, and you'll receive your new denture.
Dental Implants 101
You can invest in your smile and quality of life using the support and stability of dental implants. You will speak, smile, and chew confidently knowing your teeth will stay securely in place.
About Dr. Steven Kendrick
Dr. Kendrick earned his dental degree from the Oklahoma University of College Dentistry and has completed advanced training at the Misch International Implant Institute. He can place and restore dental implants in-office to save time and money. If you're ready to replace your missing teeth, contact our office today to schedule your consultation for dental implants.
Comments Off

on Implant Dentures 101: Understanding the Basics of Dental Implants
No Comments
No comments yet.
RSS feed for comments on this post.
Sorry, the comment form is closed at this time.