June 14, 2021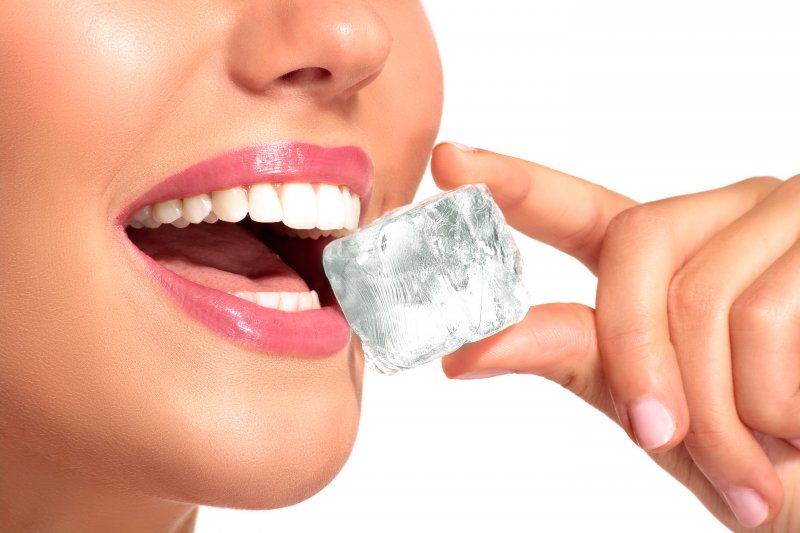 Are you guilty of enjoying a glass of ice to help you cool down in these hot summer temperatures? While it might seem like a harmless and calorie-free option, the truth is that you are causing serious damage to your pearly whites. How is it possible? Your dentist in Midwest City shares the dangers that come with chewing on ice and what it can do to your smile.
Why Chewing On Ice is Bad for Your Teeth
Your natural tooth enamel is incredibly strong; however, it's not indestructible. While it can withstand a lot of pressure, it will begin to weaken over time if you're not taking proper care of your oral health. One of the quickest ways to damage your teeth is by chewing on ice. These cubes or crushed pieces of hard water can lead to chipped, fractured, or even broken pearly whites. It can also lead to increased sensitivity that makes consuming hot or cold temperatures nearly impossible.
The more your tooth enamel breaks down due to this bad habit, the greater your risk for tooth decay and cavities. You may not realize it, but if you have fillings, crowns, bridges, inlays, onlays, veneers, etc., they, too, can become damaged as a result of eating ice. As a result, you'll be left paying additional money to have your restorations fixed.
Safe Alternatives to Try That Will Benefit Your Smile
To minimize the potential for damaging your teeth and requiring an immediate visit to see your emergency dentist, there are things you can do to officially give us this bad habit for good:
Find out if you're anemic – Researchers have discovered that individuals who are anemic often crave ice. By seeing a medical professional who can provide effective treatment, you may find that you are less tempted to reach for that glass of ice.
Switch to unsweetened popsicles – These will allow you to spend more time enjoying the taste instead of trying to chomp down on what can damage your teeth. There are many great recipes you can use to make your own without the added sugar.
Treat yourself to a slush – Although it's still ice, a slush does not possess the same hard, crunchy consistency. Plus, they come in great, tasty flavors, many of which you can enjoy without the added pressure or sugar.
Ask for beverages without ice – If you simply cannot avoid eating the ice in the bottom of your empty glass, ask that your waiter or waitress not include it when filling your beverage order. This will help you to resist any temptation you might have.
Don't put your tooth enamel at risk by chewing on ice. Once it is gone, you cannot get it back, so make sure you're kicking the habit with one of the safe alternatives mentioned above. If you need additional tips, don't hesitate to reach out to your dentist.
About the Author
Dr. Steven Kendrick is a Midwest City Dental specialist who completed his Doctor of Dental Surgery at the Oklahoma University College of Dentistry. Leading a team of qualified staff and professionals, he was recognized in Oklahoma Magazine's 40 under 40 after opening his dental office in 2001. Providing individuals with emergency care when they need it most, he and his team will work quickly to address immediate symptoms before creating a personalized treatment plan to fix the underlying cause of the problem. If you are looking to prevent a dental injury this summer, contact us at (405) 732-0431 and let us provide some helpful tips to keep your smile looking and feeling its best.
Comments Off

on The Dangers That Come with Chewing on Ice
No Comments
No comments yet.
RSS feed for comments on this post.
Sorry, the comment form is closed at this time.