July 8, 2021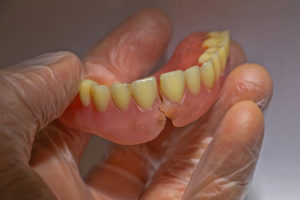 There are a wide variety of dental emergencies, but not all situations obviously require urgent professional care. For example, a severe toothache or a knocked-out tooth clearly count as dental emergencies. But what about a broken denture? After all, dentures are not real teeth, so your broken prosthetic likely won't cause you pain. To learn more about what causes dentures to break and when you should seek professional care right away, keep reading below.
Common Causes of Broken Dentures
Although dentures are a reliable tooth replacement solution, they can occasionally break. Three common causes of broken dentures include:
Normal wear and tear – Every day that you wear dentures, they are subject to stress from chewing. Over time, the stress from eating, temperature variation of hot and cold foods and beverages, and even the moisture in your mouth can wear down a denture.
Bone loss – If your jaw shrinks from progressive bone loss, your denture may no longer fit properly. This may cause your denture to shift and crack from different pressure points.
Accidents – Dentures must be removed each night for cleaning. Accidentally dropping your dentures when you take them out could result in breakage.
The Importance of Dentures
Dentures play a very important role in oral health and function. For example, without dentures to help you chew, you will not be able to eat certain foods. A lack of a balanced diet could mean that you miss out on important nutrients. In addition, dentures also play an important role in pronunciation. Without dentures, your speech may become less clear, making it harder to communicate. For these reasons, missing or broken dentures are considered a dental emergency.
Should You Try to Repair Your Dentures at Home?
Many local pharmacies stock DIY denture repair kits. However, dentures are delicate prosthetics and should only be evaluated and repaired by a dental professional. If you try to fix your denture on your own, you risk actually causing further damage. Moreover, at-home repairs could make it harder for your dentist to make a more professional, longer-lasting repair in the future.
How Your Dentist Can Help
If your denture breaks, do not wait to contact your dentist and schedule an emergency appointment. Your dentist will need to carefully examine your denture before determining the next steps. In some cases, dentures can be repaired by a dentist during an emergency appointment. However, if your dentures are severely damaged, they may need to be sent to a laboratory for repair. In the most extreme cases, broken dentures must be replaced.
Your dentures play a critical role in your oral and overall health. If you experience a broken denture, contact an emergency dentist as soon as possible.
About the Author
Dr. Steven Kendrick has many years of experience providing urgent oral care in Midwest City. From a dislodged tooth to a broken denture, he has the experience and expertise to reduce dental pain and restore one's smile. To learn more about how to respond to a broken denture, visit the Midwest City Dental Center website or call 405-732-0431.
Comments Off

on Does a Broken Denture Count as a Dental Emergency?
No Comments
No comments yet.
RSS feed for comments on this post.
Sorry, the comment form is closed at this time.