July 21, 2020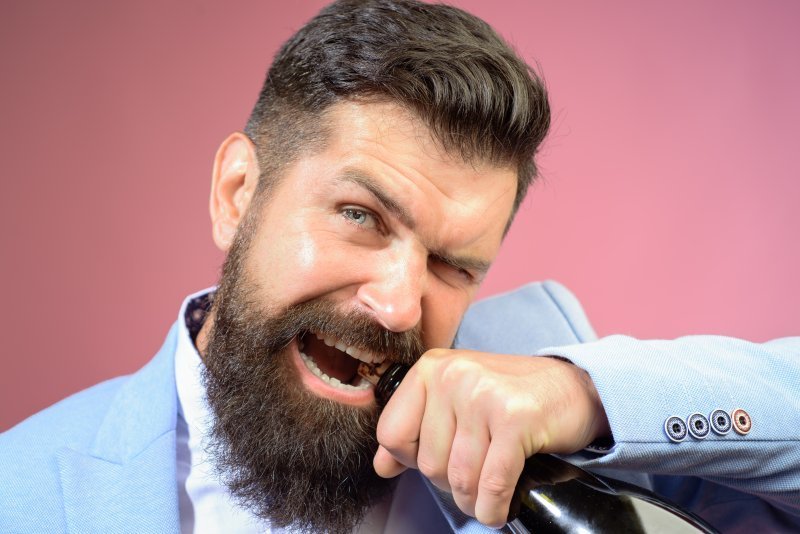 Everybody has habits. Some may be completely harmless while others can pose potential threat to your overall wellbeing. Even though they can be difficult to give up for good, doing so can improve your quality of life and for some, the health of your smile. Your emergency dentist in Midwest City shares which habits are harmful for your smile and how they can lead to dental emergencies.
Nail Biting
Many people view nail biting as gross and somewhat unattractive. It can also damage your teeth and put you at risk for disease. When you bite your nails, you are exposing yourself to all of the bacteria living beneath them. Your teeth are also more likely to chip, crack, and break. Many find that this habit can be difficult to break. You could try using a bitter tasting nail polish, cut them short, or invest in a manicure.
Vigorous Brushing
Brushing twice a day is crucial for good oral health but doing it too hard can actually cause damage to your enamel. Remember to always use a soft-bristled toothbrush and brush in soft, circular motions for the most effective clean.
Grinding and Clenching
This is usually done as a result of stress or unconsciously during sleep. Ask your dentist about a custom-made nightguard to help reduce the probability of your teeth wearing down, chipping, and cracking over time.
Chewing on Ice Cubes
Chewing ice can damage your tooth enamel. It can also cause damage if you have fillings, braces, or other dental restoration work. Ice chewing can also easily lead to cracked and chipped teeth. If you are looking for something to chew on, try sugar-free gum.
Using Your Teeth as Tools
Even though it seems like a convenient solution to a stubborn wrapper, using your teeth to open bottles or packaging could cause them to crack or chip. Ultimately, your teeth are intended for chewing your food so that you can eat. They are not meant to be used for other purposes. Keep scissors, bottle openers, and other tools around so you do not feel the urge to use your teeth.
Smoking
Both smoking and chewing tobacco can cause tooth discoloration, periodontal disease, tooth decay, and even tooth loss. Talk to your doctor, friends, and family about the best ways that you can give up the habit for good. It will benefit your entire body,
Consuming Too Much Sugar
An occasional sugary treat does not usually cause any harm. But if you are constantly snacking on starchy foods or sipping on sugary beverages, your teeth will eventually develop cavities. When left untreated, tooth decay can lead to worse problems like infections and tooth loss.
Some of these habits are difficult to break, but by working hard to cut back and discontinue them, your teeth will thank you!
About the Author
Dr. Steven Kendrick provides a multitude of services at his practice in Midwest City, OK. He earned his Doctor of Dental Surgery from the Oklahoma University College of Dentistry and furthered his education training at the Misch International Implant Institute. He is also a member of numerous professional organizations including the American Dental Association and the Oklahoma Dental Association. If you are having a dental emergency, Dr. Kendrick would be happy to help. For more information or to schedule an appointment, visit his website or call (405) 732-0431.
Comments Off

on 7 Bad Habits That Could Cause a Dental Emergency
No Comments
No comments yet.
RSS feed for comments on this post.
Sorry, the comment form is closed at this time.